In Healthy Child Care, Healthy Communities, selected state teams will develop and implement a technical assistance (TA) plan based on the state's specific needs. CCAoA is especially interested in partnering with teams that consider how their work might support their state plan for child care. This work is made possible with a grant from the Robert Wood Johnson Foundation.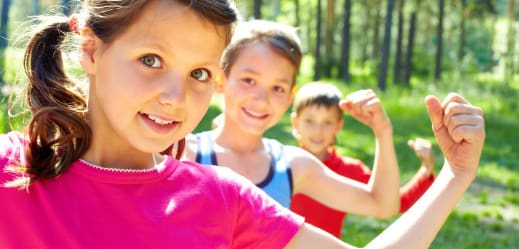 Symposium Spotlight
---
 State Spotlights & CCDF Plan Summaries
In Healthy Child Care, Healthy Communities, Child Care Aware® of America is working with six state teams to examine opportunities to enhance standards around healthy, active living. Learn more about the six partner states with these state spotlights, and see how they're including health and wellness in their state CCDF plans.
Alabama
Colorado
Indiana
Missouri
New York
North Carolina
---
Toolkit for Supporting Healthier Child Care Environments Through State CCDF Plans
We've developed these resources to help you educate and inform the public about the opportunity to include health, nutrition, wellness in state child care plans. To make this as easy as possible, we've created a toolkit that includes:
---
Presentations
Presentations conducted by Child Care Aware® of America on health, nutrition, and obesity prevention opportunities in CCDBG:
"Public Health Law Center: Child Care Health Regulation Mapping Resources" (VIDEO) – Natasha Frost and Anna Ayers-Looby from the Public Health Law Center share their work on mapping child care health regulations. These resources can be used by state agencies, CCR&Rs and policy makers to identify areas where regulation can strengthen or support health in the child care system.
"The CACFP Big Bang Theory: The Importance of Local Advocacy to National Policy" (PDF) – How advocacy work on the reauthorization of the Child Care and Development Block Grant illustrates the relationship between local practice and advocacy and national advocacy efforts.
"Healthy Active Living in CCDBG presentation" (PDF) – Information on healthy, active living health opportunities in the Child Care Development Block Grant (CCDBG)
"Child Nutrition Reauthorization PowerPoint presentation (PPT)" – Child Nutrition Reauthorization (CNR), Integrity proposed Rules and Revised CACFP Meal Patterns webinar (YouTube) and PowerPoint presentations.