Many different types of emergencies can lead to a power outage. Loss of power can make it difficult to appropriately care for children, but with advanced preparation, child care providers can ensure they are meeting the needs of the children in their care. Keep in mind that each state may have its own policies for how to proceed in the event of a power outage.
Preparing for a Power Outage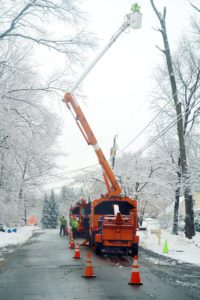 There are many steps you can take to help prepare for a power outage. Ready.gov offers many suggestions:
Take an inventory of the items you need that rely on electricity.
Make sure you have a plan for medical devices powered by electricity and refrigerated medicines.
Plan for batteries and other alternatives to meet your needs when the power goes out.
Sign up for local alerts and warning systems. Monitor weather reports.
Install carbon monoxide detectors with battery backup in central locations on every level of the facility.
Determine whether your phone will work in a power outage and how long battery backup with last.
Review supplies that are available in case of a power outage. Have flashlights with extra batteries.
Have enough nonperishable food and water.
Use a thermometer in the refrigerator and freezer so you can show the temperature when the power is restored. Throw out food if the temperature is 40 degrees or higher.
Keep mobile phones and other electric equipment charged and gas tanks full.
Other steps include:
Make sure you have extra blankets for cold weather.
Write down your electric company's telephone number and consider saving their website to your mobile phone. This will make it easier to check your outage status if the power goes out. Many utility companies have Twitter accounts, which can provide the most current information.
Keep the refrigerator and freezer closed as much as possible.

Food Safety
The key to food safety following a prolonged power outage is to ensure the temperature of food stays at 40 degrees or below. Food in a freezer may be safely refrozen if the food has ice crystals or stays below 40 degrees. As a general rule, if there is doubt – then throw it out!
Webinar
Other Resources