Emergency preparedness for child care programs is important because there is a good chance an emergency will happen at some point. In an emergency, child care providers are on the front lines to keep children and staff safe.
Emergency Plans
Emergency plans are an important tool in knowing what to do in the event that an emergency happens while children are in your care. Creating an emergency plan gives child care providers an opportunity to think of how to respond to various scenarios before they happen.
Emergency plans are required by some entities, such as:
State licensing
Quality Rating and Improvement Systems (QRIS)
Child Care and Development Fund (CCDF)
Head Start Performance Standards
Accreditation Standards
Caring for Our Children National Health and Safety Performance Standards Guidelines for Early Care and Education Programs (4th edition)suggests that facilities should develop and implement a written plan that describes the practices and procedures they use to prepare for and respond to emergency or disaster situations. Their suggested emergency plan components include:
Information on disasters likely to occur in or near the facility, county, state, or region that require advance preparation and/or contingency planning
Plans (and a schedule) to conduct regularly scheduled practice drills
Mechanisms for notifying and communicating with parents/guardians in various situations
Mechanisms for notifying and communicating with emergency management public officials
Information on crisis management
Identification of primary and secondary meeting places and plans for the reunification of parents/guardians with their children
Details on collaborative planning with other groups and representatives
Continuity of operations planning
Contingency plans for various situations
There are many emergency plan templates available to use as a reference. Make sure you are using your state's required plan template if one is available.
Emergency Plan Templates
Webinar: Let's Get Ready – Planning Together for Emergencies
Evacuation/Shelter-in-Place
The type of emergency determines how you should react.
You will need to evacuate when conditions are safer outside the building than inside the building. Sometimes after an evacuation, you are unable to return to your site and must relocate. It is important to have an initial relocation site in addition to back-up relocation sites; one within walking distance and another outside of the area.
In certain emergencies, it is best to make sure everyone is safe inside and to isolate children and staff from the outside environment. The need to shelter-in-place should be based on notifications from local emergency officials or weather forecasts.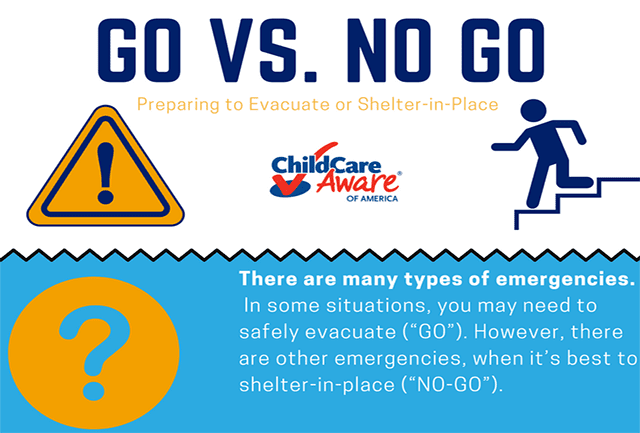 Practice Drills
It is important to practice evacuation and shelter-in-place drills on a regular basis.
Follow state licensing and other applicable regulations for drill frequency and type
Practice drills should be held regularly
Involve all children who are present at the time of the practice drill in the drill
Give children simple instructions and talk about what is happening
Complete a drill log
The UCSF California Childcare Health Program has Sample Emergency Disaster Drills available to review.
Child Care Aware® of North Dakota has a Child Care Program Emergency Drill Log available.