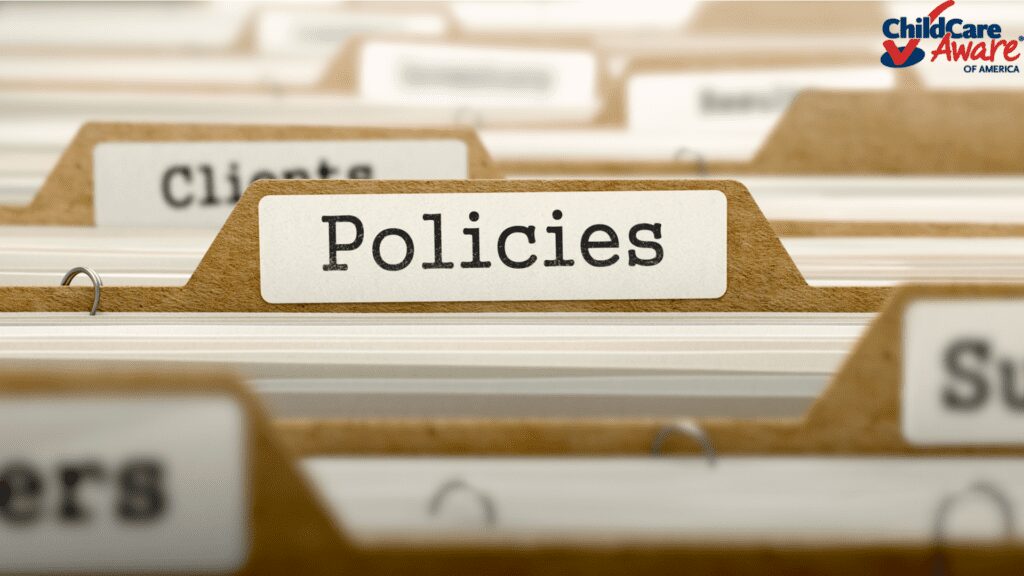 It is important to outline policies and procedures for operating your child care business for your employees (if you hire staff) and families. These will include important topics that can help your business run smoothly. Your policies and procedures should reflect the Code of Ethical Conduct for the early childhood field.
Staff  Handbook   

If you plan to hire employees, your staff handbook will outline the expectations you have for them. If you want your staff handbook to be a binding agreement between you and your employee(s), make sure you review it with each staff member. Consider having them sign a document stating they read and understand the contents. The following topics are often included in staff handbooks:  

Mission and philosophy of your program  
Benefits and pay scale  
Job descriptions, evaluation procedures, hiring and termination policies  
Information on child abuse prevention, identification and reporting  
Child behavior and guidance policies  
Health and safety procedures  
Family communication and engagement 
Professional development requirements 
Sick leave policy and/or absences due to illness
Family Handbook   

The family handbook outlines your program's policies and procedures and includes other important information for families. Your state or local area may require you to have certain written policies available to families. Whether or not it is required, it is strongly encouraged to provide a family handbook to help families learn about your program and shape their expectations. Encourage families to read the handbook and ask questions. Family handbooks often include the following topics:  

Mission and philosophy of your program   
Description of your program, including your operating hours and the ages of children you serve   
Information on whether your program is part of your state's Quality Rating and Improvement System or nationally accredited   
Information on when payment is due and a policy regarding late payments   
Description of the curriculum and daily schedule for children   
Description of family engagement activities   
Required forms for families to complete such as the registration form, health forms, medication administration forms, emergency contact information and field trip permission forms   
Information on policies regarding communication with families, guidance and discipline, drop-off and pick-up procedures, planned and emergency closings, fee and payment arrangements, food and nutrition, health policies (including when a child is required to be excluded from care due to illness), and transportation policies 
Description of your disaster and emergency plans  
Emergency Preparedness Plan  

One of the most important policies and procedures you will establish is your written emergency preparedness plan. This plan should help you prepare for any type of disaster or emergency that could happen in your area. This includes weather-related disasters like earthquakes, hurricanes, tornadoes and blizzards; man-made disasters like active shooter situations and threats/acts of terrorism; and environmental emergencies such as a pandemic or unsafe levels of mold or radiation in the building.  

Make sure that your emergency preparedness plan includes:  

types and frequency of drills you will conduct in order to practice for emergency situations 
location and contents of emergency kits that you will have available (as well as a plan for checking and restocking them regularly) 
evacuation plans and procedures (including how you will contact families in the event of an evacuation) 
how you will care for children for an extended period of time in the event of a shelter-in-place or evacuation scenario 
information and resources about how to recover and support the children in your program (and staff, if you have employees) following an emergency 

Many states have specific templates or forms that child care programs must use to create their emergency plan. Your local Child Care Resource and Referral agency (CCR&R) or your child care licensing office can direct you to the correct template or form, if your state offers one.  

If your state does not have a specific form or template to use, visit our Emergency Preparedness and Response website for emergency planning resources from a variety of sources. Available resources include webinar recordings, training courses, templates, manuals and more.