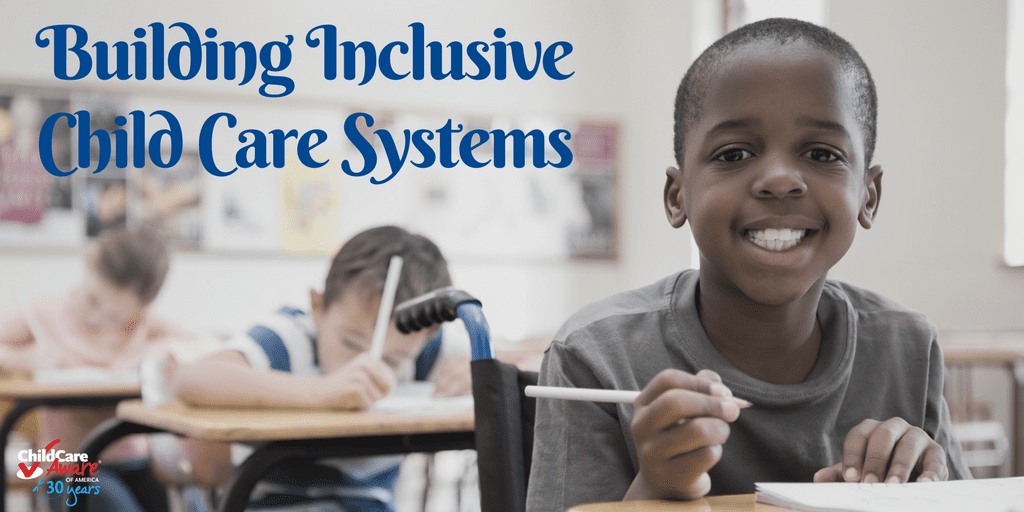 The time may finally be right to make significant strides towards full inclusion of young children with disabilities in early care and education programs, including child care. Interest in achieving that goal has been on the rise among advocacy organizations and at the federal level. Statements issued in the past couple of years by the U.S. Departments of Education and Health and Human Services affirm that all young children with disabilities should have access to high quality early childhood programs. The Child Care Development Block Grant (CCDBG) Act of 2014 reinforced existing and included new provisions that are specifically designed to further inclusion in child care. Taken together, these developments represent an opportunity for states to support policies and practices that advance full inclusion.
This resource represents a joint effort by the Ounce of Prevention Fund, the Division for Early Childhood (DEC), and Child Care Aware® of America. It provides context for the current debate on inclusion, but largely focuses on discussing how states can maximize opportunities in the new CCDBG requirements to promote inclusion. For example, one of the new requirements is that states provide training and support to child care providers that is "appropriate for a population of children that includes children with disabilities." This resource then offers a suggestion about how states could financially support the requirement: through the use of CCDF quality set-aside funds, which are available for professional development and training.
Download the Report

Building Inclusive State Child Care Systems includes many other practical examples that are helpful to states striving to expand opportunities for high-quality child care to all young children with disabilities.
Share Your Story
We are excited to share Building Inclusive State Child Care Systems which highlights how important inclusive child care settings are. But we want to hear from and celebrate providers who offer quality inclusive child care.
We are looking for stories about how YOU create inclusive environments in child care. Maybe you've adapted the physical environment to accommodate kids with mobility issues. Maybe you have great relationships with your Early Intervention Providers so you can implement developmental strategies in your curriculum. You might be an expert at caring for children with special medical needs. We want you to tell us what sets your inclusive setting apart from the rest!
We will select stories to share on our website so we can let the world know how you are working to make child care a more inclusive space for children and families.