Weather can change quickly. Thunderstorms and lightning can occur with little warning, especially in the spring and summer months. This type of weather can be scary for both children and adults. It is important that child care providers are prepared for thunderstorms and lightning so they can stay calm and help ease children's fears and anxiety, in addition to knowing what to do in order to keep everyone safe.  
Thunderstorms
Thunderstorms are dangerous storms that include lightning and can: 
Include powerful winds over 50 MPH

 

Create hail; and

 

Cause flash flooding and tornadoes
Preparing for Thunderstorms
Know your area's risk for thunderstorms. In most places, they can occur year-round and at any hour.

 

Sight up for your community's warning system. 

 

Put together an emergency preparedness kit. 

When thunder roars, go indoors! 

 
Watch vs. Warning
Severe Thunderstorm Watch: Be Prepared! Severe thunderstorms are possible in and near the watch area. Stay informed and be ready to act if a severe thunderstorm is issued.  
Thunderstorm Warning: Take Action! Severe weather has been reported by spotters or indicated by radar. Warnings indicate imminent danger to life and property. Take shelter in a substantial building.  
New Categories of Thunderstorm Warnings as of Spring 2021: Warnings with a threat of significantly stronger winds and/or large hail will be placed in one of two higher-end categories.
Preparing for Power Outages
It is important to have a plan in case a thunderstorm causes a power outage.  
Consider how you'll provide

 for 

light, food

 preparation, sanitation (such as handwashing and toileting),

 and ensure adequate heating or cooling if the power goes out. 

 
If any children or staff use a power-dependent medical device, such as a nebulizer for asthma, notify your electric company so that you could be put on a priority list for 

repairs

 in case of a power outage during a thunderstorm. Also, arrange for backup power, such as from a portable generator. 

 

Never use a portable generator inside since that is a big risk for carbon monoxide poisoning.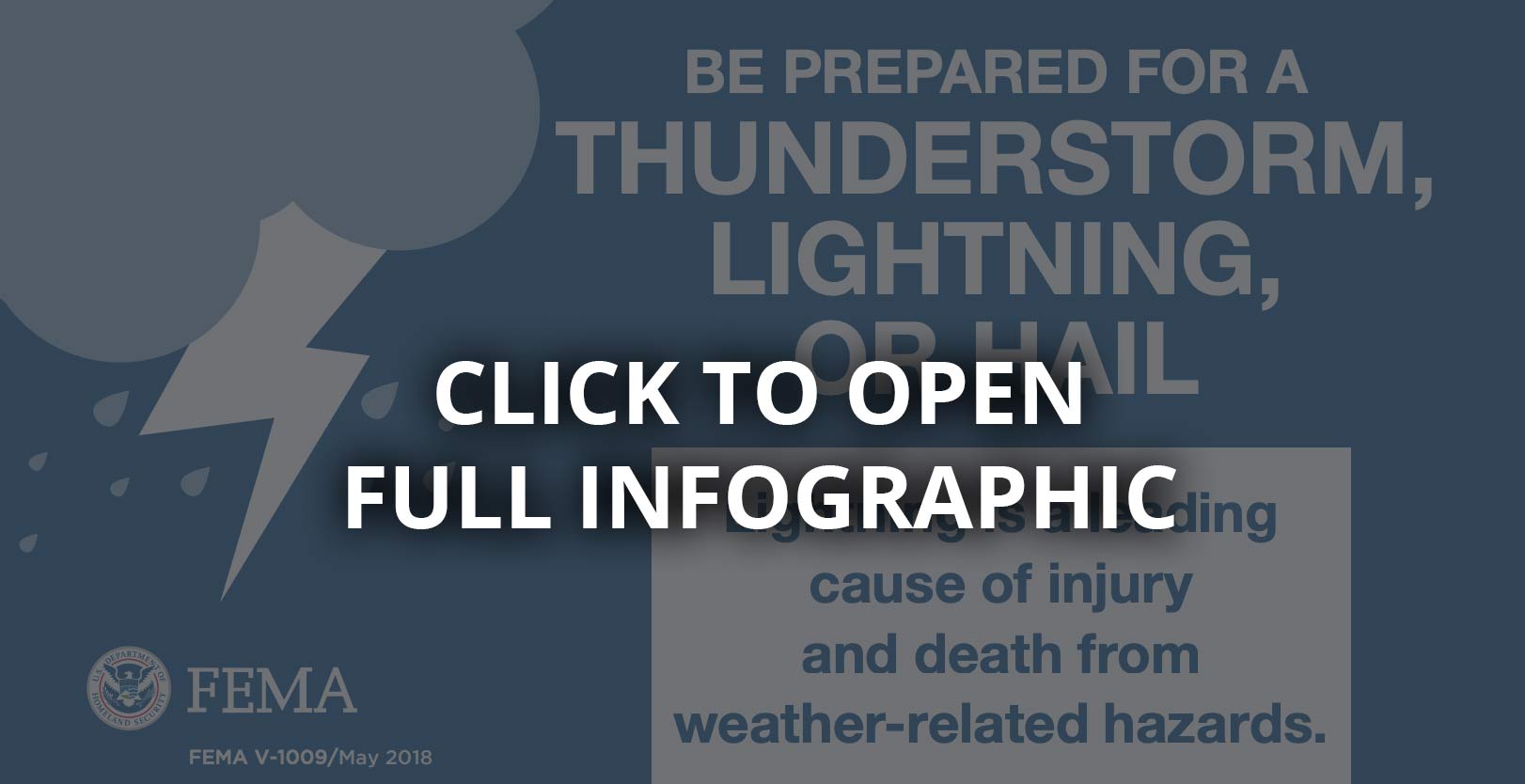 Lightning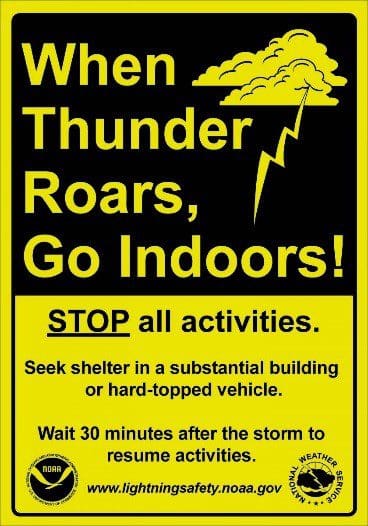 Lightning Tips (National Weather Service)  
NO PLACE outside is safe when thunderstorms are in the area!

 

If you hear thunder, lightning is close enough to strike you.

 
When you hear thunder, 

immediately 

move to safe shelter: a substantial building with electricity or plumbing or an enclosed, metal-topped vehicle with windows up.

 

Stay in safe shelter at least 30 minutes after you hear the last sound of thunder.

 
Indoor Lightning Safety 
Stay off corded phones, computers, and other electrical equipment that puts you in direct contact with 

electricity

.

 

Avoid plumbing, including sinks, baths, and faucets.

 

Stay away from windows and doors, and stay off porches.

 

Do not lie on concrete floors, and do not lean against concrete walls. 

 
Other Resources