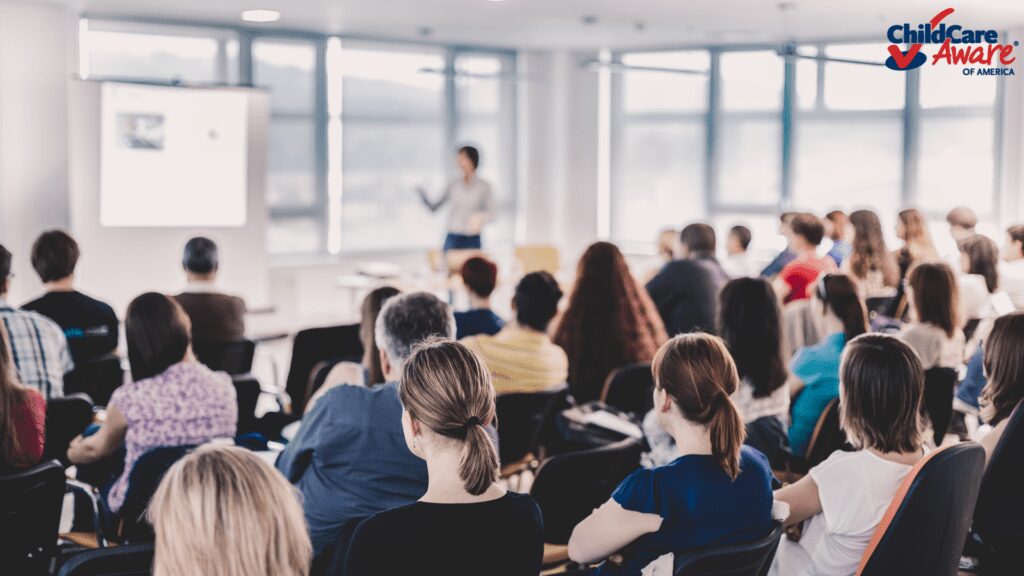 All child care providers need training and education to help keep children healthy and safe. Ongoing training and education can also help child care providers learn and practice new teaching skills and can offer ideas and resources for providing quality child care and learning opportunities. 
Ongoing Training and Professional Development 

Each state has different ongoing training requirements for owners, directors and staff of licensed child care programs. You and your staff may be required to complete a certain number of training hours each year on specific topics. Ongoing training is designed to help child care professionals acquire and retain the skills and knowledge needed to be competent caregivers and educators. It also helps caregivers stay up to date as the field and licensing requirements change. Trainings, whether required or voluntary, should include topics like safety and security in child care; preventing the spread of communicable diseases; safe infant sleep practices; child development (including monitoring children's development and sharing concerns with families); emergency preparedness; child health and nutrition; positive guidance; child abuse prevention, identification and reporting; and business management. 

Professional development goes above and beyond training by helping child care professionals learn transferable skills that can potentially help them to advance their careers. Some professional development opportunities may be in person or online, some may be more in-depth and offered over a period of time, and some may award certificates, a credential, or credits toward a degree upon completion. Check to see if trainings or professional development courses offer continuing education units (CEUs) for a fee. This might help you or your staff earn credits toward a college degree.  

Your local CCR&R may have a list of required and ongoing trainings that you can take in person and online and professional development opportunities that you can pursue. 
Education Essentials  

Continuing your education can help you provide quality child care and is an important characteristic of high-quality programs. If you choose to have your program pursue national accreditation or participate in your state's Quality Rating and Improvement System (QRIS), you or your staff may be required to have higher levels of education and engage in ongoing professional development to enhance education.

There are different ways you can continue your education in the early childhood field. Contact your local CCR&R to learn more about different programs in your area that can help you earn your Child Development Associate (CDA) credential, associate degree or bachelor's degree in early childhood education or child development. You can also check with local and online colleges and universities that offer degree programs in child-related fields.