Child Care Aware® of America (CCAoA) partners with Child Care Resource and Referral (CCR&R) agencies to activate Vroom®, a global initiative, in communities across the nation, bringing the science of early brain development to families and child care through everyday moments.
Learn more about our brain building for child care programs here.
For questions about the Vroom program or the resources on this page, please email vroom@usa.childcareaware.org.
What Our Members Say About Vroom®
"We have also been able to incorporate [Vroom] with the child care providers sharing how they can inform families on the Vroom App. This is very helpful in the family engagement piece of QRIS (Quality Rating Information System)."
"[We] support our region's child care providers to achieve, maintain, and increase their quality ratings. We recognize that Vroom is an excellent tool for child care providers to utilize when developing their parent engagement strategies."
CCR&R Case Stories
Read case stories from CCR&R agencies highlighting strategies for integrating Vroom® into outreach to child care providers, businesses, and community partners that engage and support families around early brain development – helping children thrive now and in the future.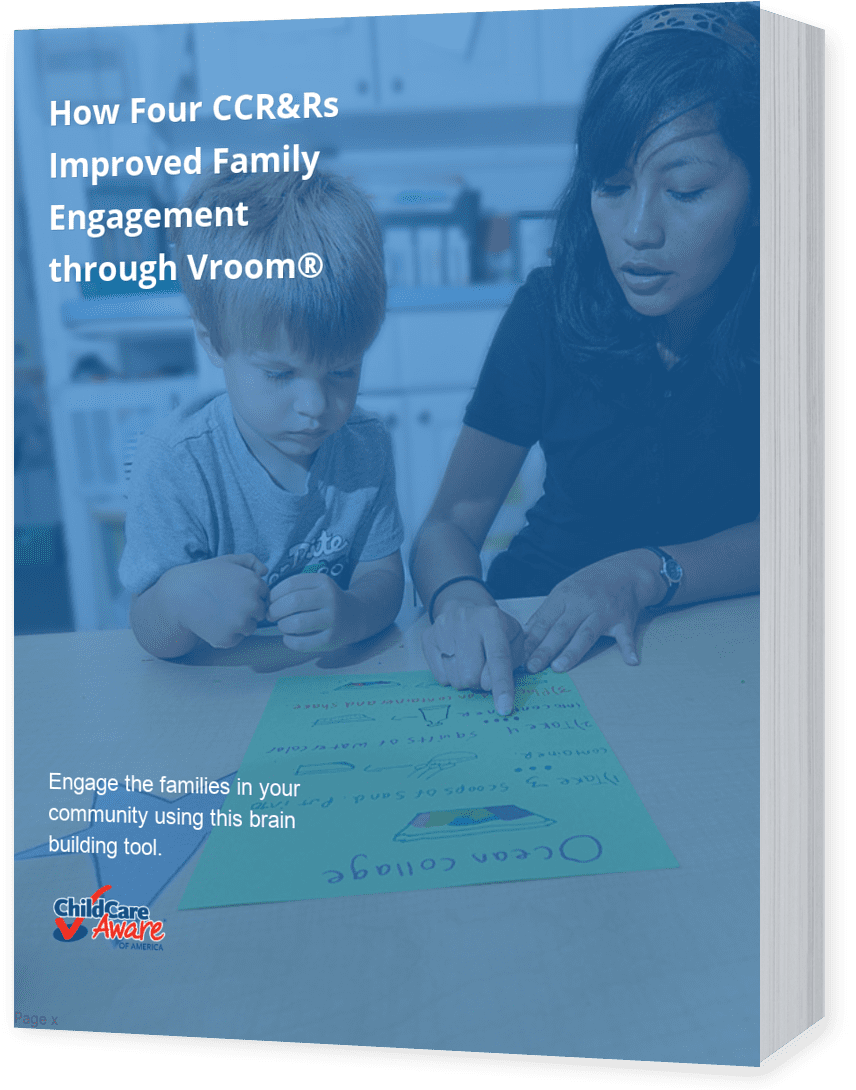 How Four CCR&Rs Improved Family Engagement through Vroom®
CCR&Rs across the country use Vroom® in innovative ways to help engage families and provide them with valuable teaching tools and resources. Following are four examples of how these agencies improved family engagement through the Vroom program.
CCR&Rs Sharing Vroom
The map below shows where CCR&Rs have been sharing Vroom in their outreach. Together, these CCR&R agencies have impacted thousands of child care providers, families and community partners, promoting the importance of brain-building during everyday moments with young children.
Ready to Learn More? Join Our Vroom Community of Practice
CCAoA is hosting a Vroom Community of Practice (CoP) to bring members who are CCR&Rs together. The CoP will consist of:
Quarterly live calls
An online networking platform
Opportunities to learn from each other, share best practices and develop innovative strategies to empower families with the latest brain science and brain-building tools.
To learn more about registering for CCAoA's Vroom Community of Practice, complete the information below and a CCAoA staff person will follow up with you by email with further details.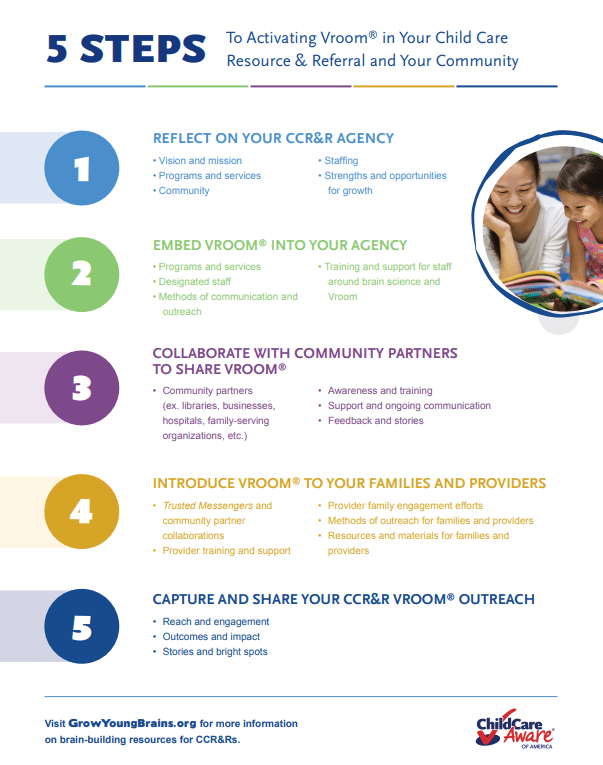 Join the Vroom Community of Practice to access the complete interactive worksheet and work plan.
---
How has the Vroom Community of Practice impacted you?
Hear from other CCR&Rs
---
Additional Resources