Child Care Data Center (CCDC)

Currently, it's difficult to find data to answer even basic questions about community-level child care – including questions about access, cost and quality. One consequence is that decisions about child care systems, policies and funding are made without strong data. Some investments in child care don't reach the families and child care providers most in need of support. This can deepen the disparities in child care access, affordability and quality. Strong data could allow decision makers to target a community with interventions they actually need.
To help remedy to this current situation, Child Care Aware® of America (CCAoA) launched the Child Care Data Center (CCDC) – a project designed to help advocates use data to promote high-quality, accessible and affordable child care for all families. The CCDC will help remedy the lack of strong standardized child care data in the U.S. The interactive website allows users to:
Enter, store and interact with meaningful child care data.
Access customized data visualizations to tell the story of child care in their state or local community.
Develop actionable advocacy tools.
CCAoA launched CCDC with data from six CCDC pilot states: Illinois, Minnesota, Missouri, Oregon, Washington and Wisconsin. These states have shared their expertise and data. They worked with us to build, populate and test all aspects of the CCDC including the navigation, user interface and advocacy tools. Now, all users are able to play with the data from, and the visualizations and advocacy tools for, the six pilot states.
With the help of our state and national partners, we identified four critical child care stories in six pilot states to tell: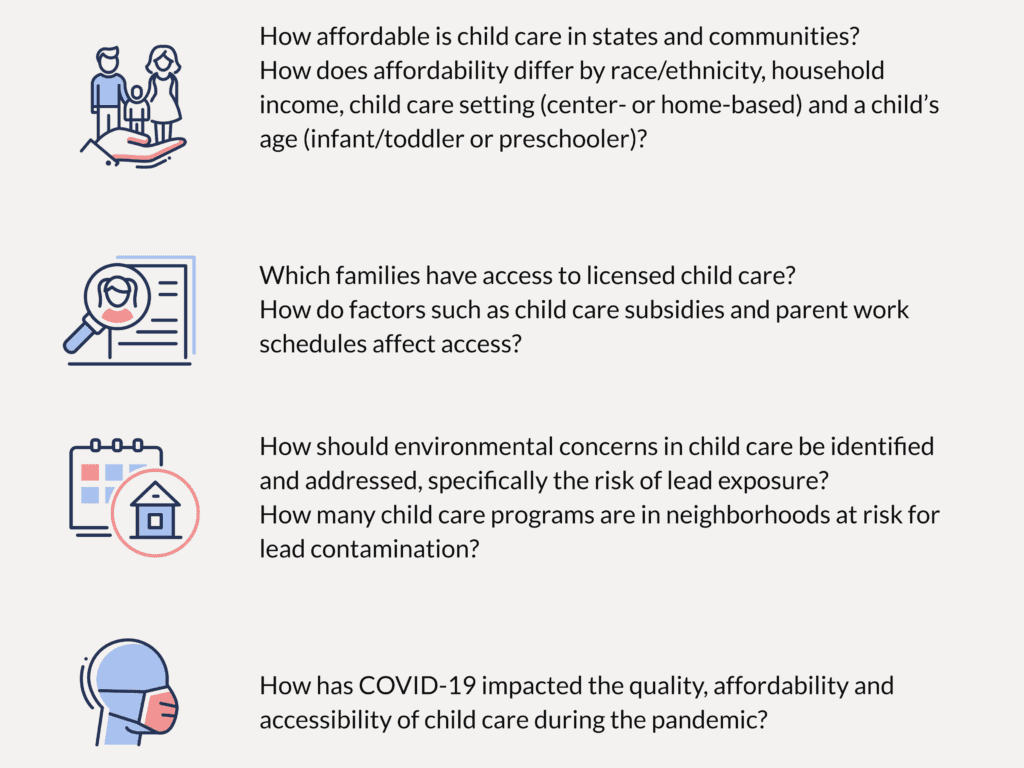 The CCDC allows users to transform their data into dynamic visual representations. Visual data has more impact on a reader than simple tables and visualizations can be especially useful when working with policymakers. Visualizations quickly convey a problem or need – helpful when advocates approach and work with decision makers about needed changes in their state or community. Users can then print these customized graphics and add notes to the printout to share with lawmakers. In addition to data visualizations, readers can also send a message to their Member of Congress directly from the CCDC to share current data from within their state urging them to learn more.
At this time, the data featured in the CCDC stories reflect the year 2020. In the COVID-19 story, we compared child care supply as of July 2020 to supply as of December 2020. We plan to add more stories and states in the future, along with updated data. If you have questions about CCDC or if your state is interested in joining CCDC, please complete the form below.
Learn More about Child Care Data Center (CCDC)
Anyone who works in the child care field knows how difficult it is to find data – and even more difficult to standardize it. That's why CCAoA built a tool to standardize and visualize child care data across states. If you are a part of a state-level organization and want to be a part of the Child Care Data Center — or, if you're interested in how child care data can be streamlined in an interoperable child care system — please fill out the form below.