Child Care Aware® of America Responds to Disasters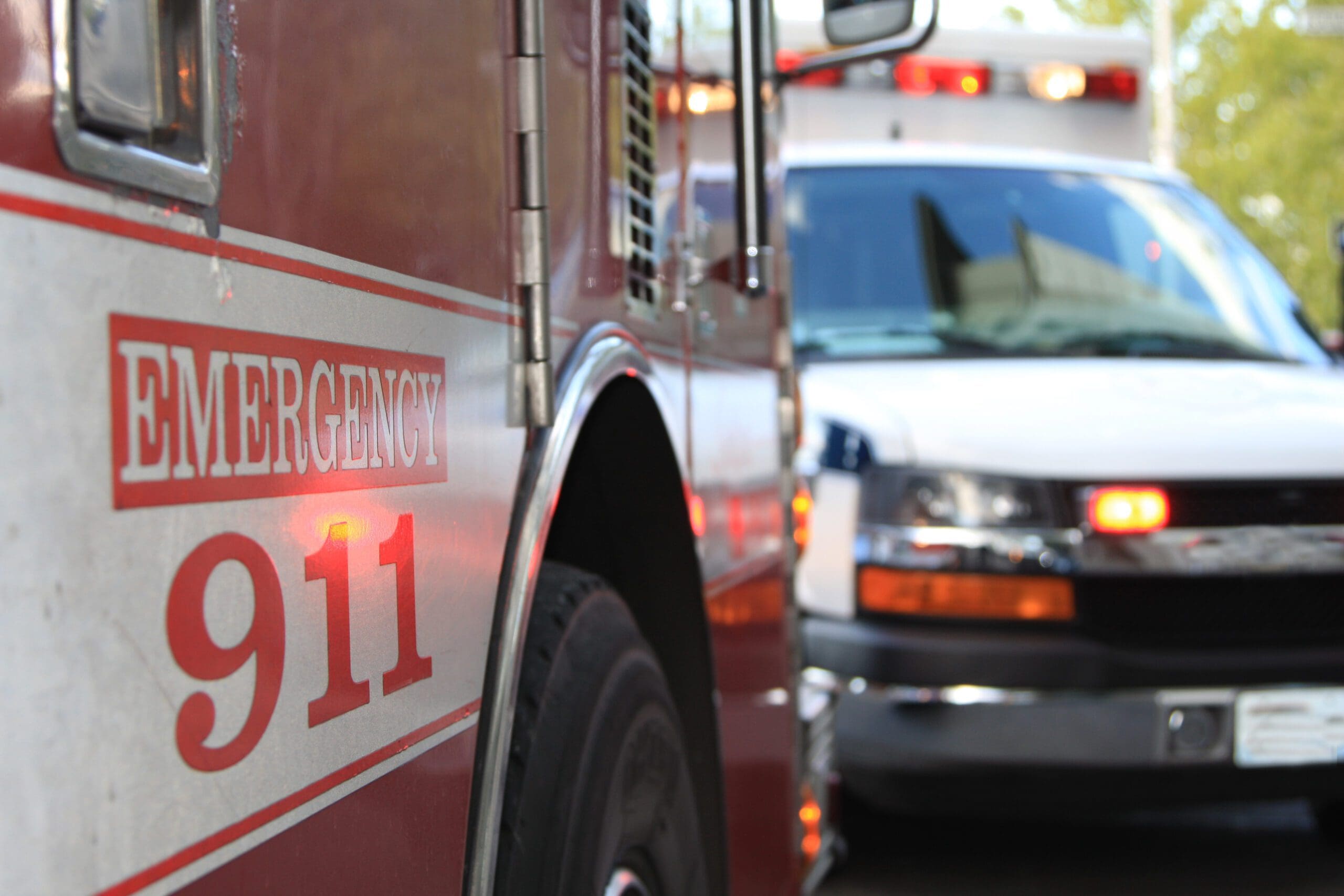 We work with partners to keep families informed about child care programs affected by disasters across the United States. Explore our reports and actions from previous incidents below.
---
Hurricane Florence – September 2018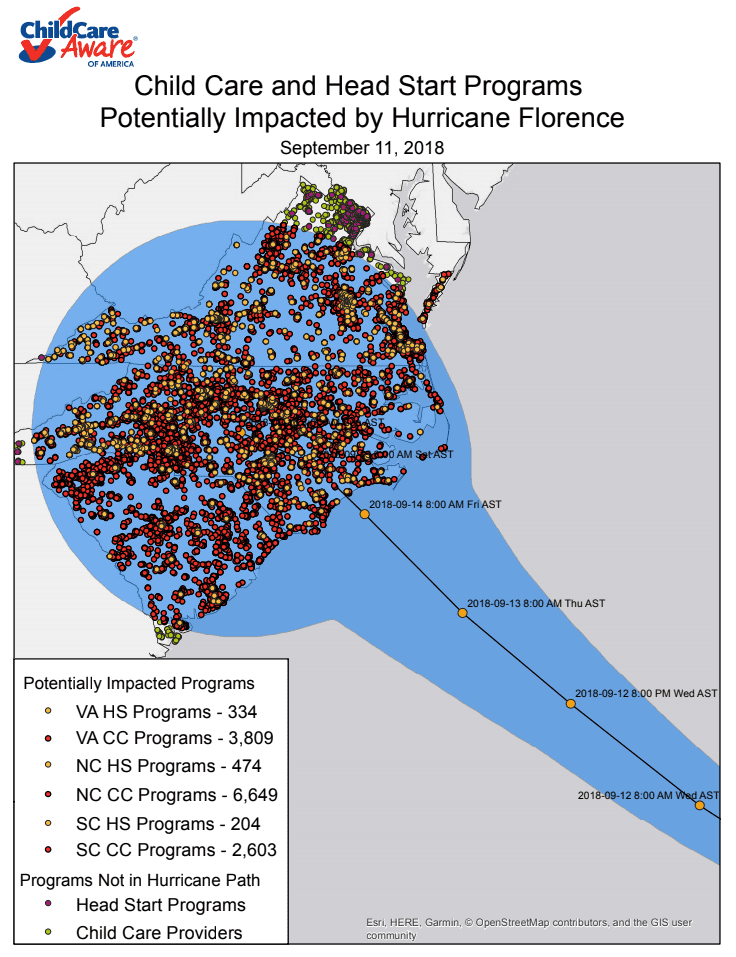 Child Care Aware of America worked in partnership with Children's Disaster Services, Humanity Road and Save the Children to actively monitored Hurricane Florence. There were 1,102 Head Start programs and 13,601 child care programs that were in the path of this dangerous storm that affected the Carolinas in September 2018.
Read our Situation Report 1 – September 11, 2018
---
Hawaii Kilauea Eruption – May 2018
Kilauea, the youngest and southeastern-most volcano on the Island of Hawai'i, is an active shield volcano in the Hawaiian Islands. In early May 2018, a new eruption sprouted in the Leilani Subdivision on the sprawling volcano's southeast flank, with fissures popping up along a 2.5-mile stretch and lava covering 116 acres and claiming 36 structures. Our Emergency Preparedness Team tracked threats to child care programs in collaboration with Humanity Road.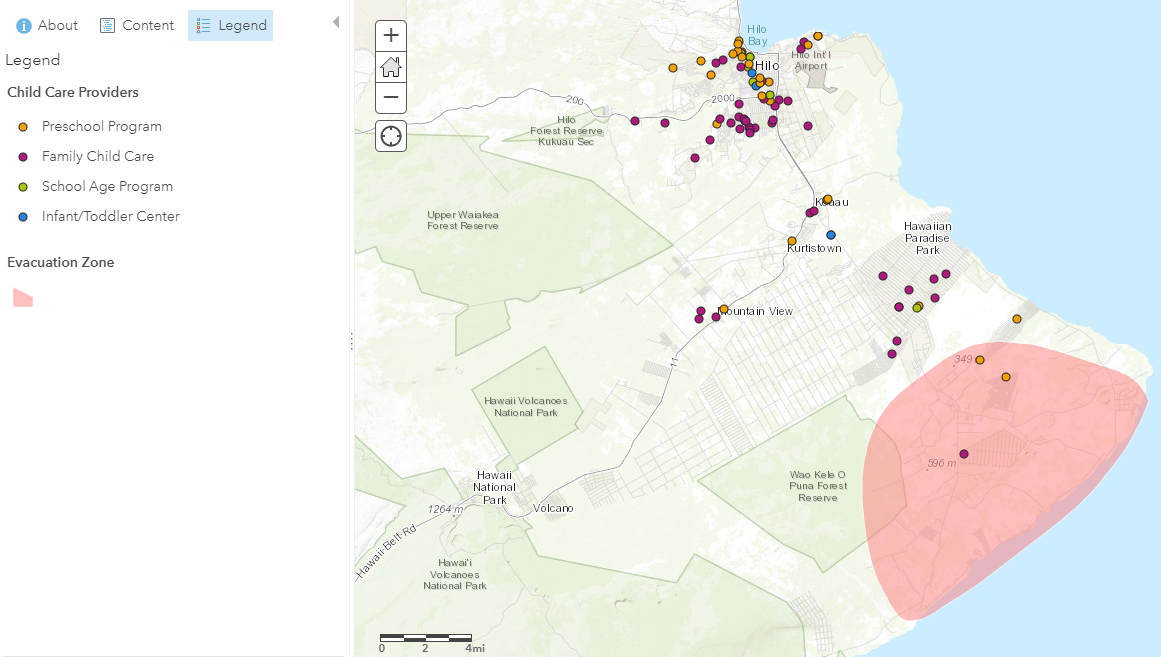 GIS Mapping from Child Care Aware® of America  (Interactive version available here: https://arcg.is/nfSXi)
---
Hurricane Irma  –  September 2017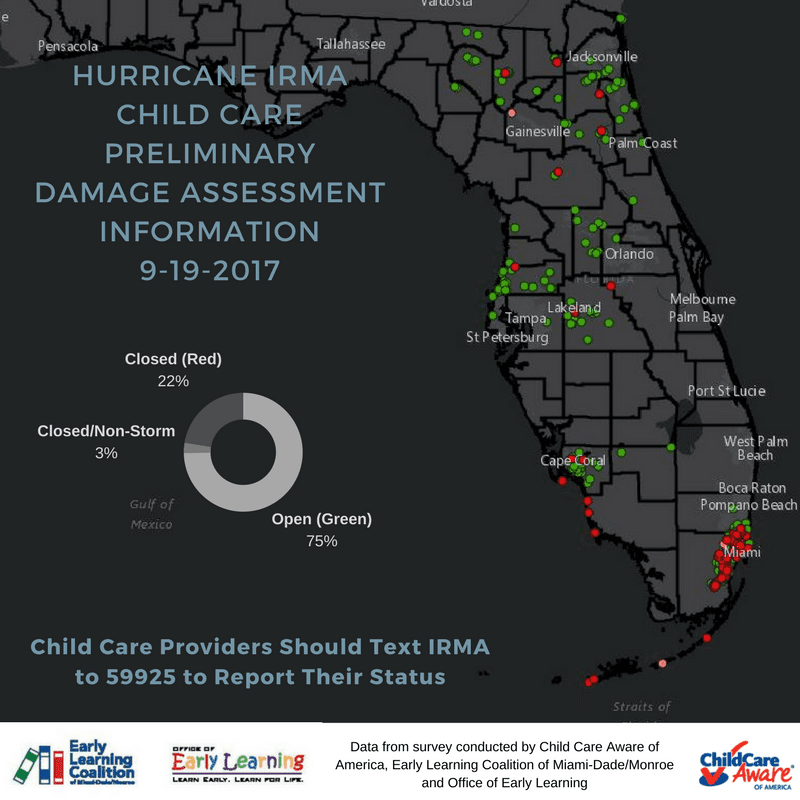 After a devastating hurricane that hit Florida in 2017, Child Care Aware of America developed a beta-version of a comprehensive child care mapping dashboard, which showed the location, number and capacity of child care programs throughout the state. This interactive dashboard allowed users to view data at the state, regional, local and neighborhood level.
You can read our final situation report here.
---
Hurricane Maria – September 2017
In fall 2017, Hurricane Maria, a deadly Category 5 hurricane, hit Dominica, the U.S. Virgin Islands, and Puerto Rico and became one of the worst natural disasters to hit these islands with more than 3,000 fatalities. Child Care Aware of Virginia closely monitored the storm and recovery. In an effort to share information about the response, we created a social share kit with the latest numbers in both English and Spanish. View our final situation report here.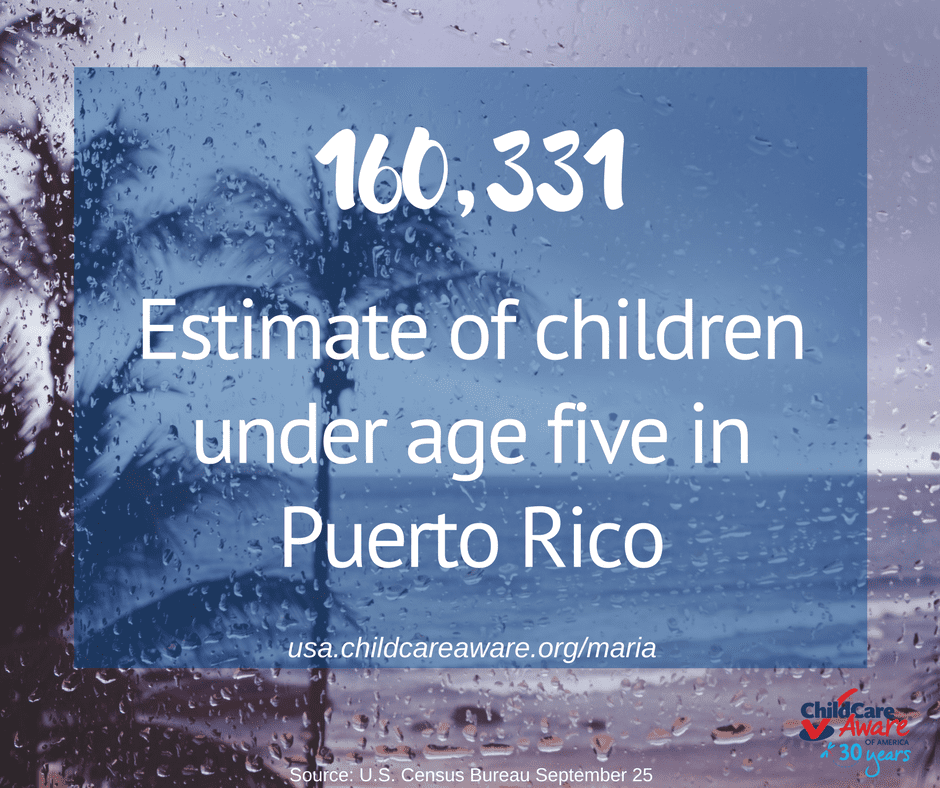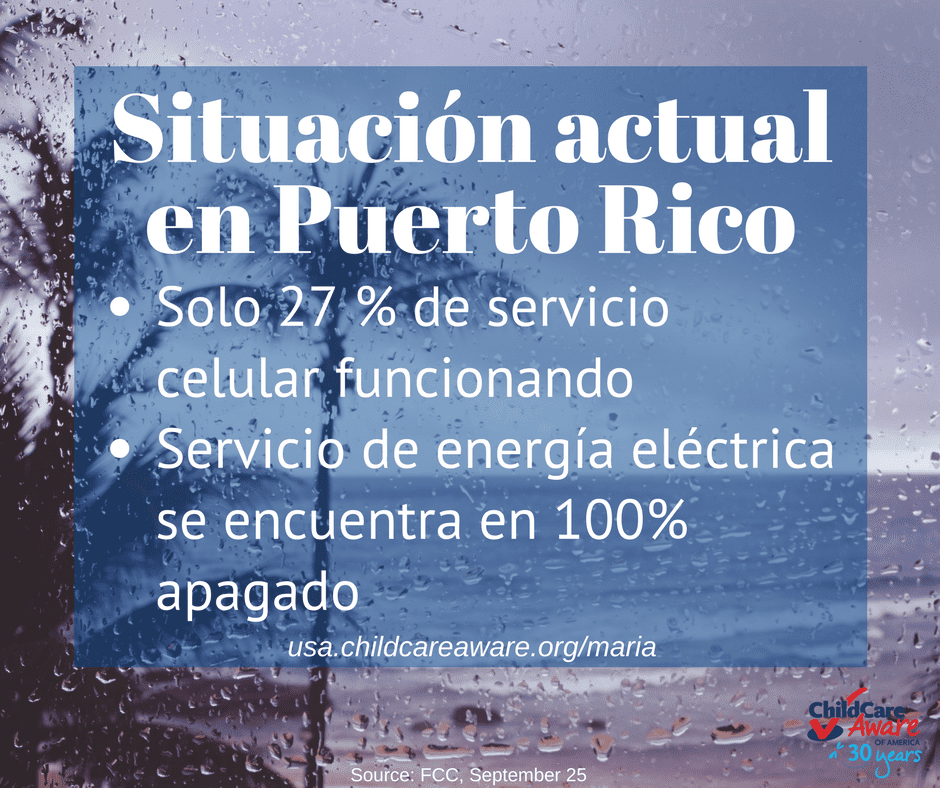 ---
Disaster Resources
After the Storm
The U.S. Dept. of Housing and Urban Development (HUD) Office of Lead Hazard Control and Healthy Homes recognizes that after a natural disaster you just want to get back to normal as quickly as possible. And if your home has been damaged, getting back to normal is even harder.
Disaster-damaged homes can pose serious health risks, such as mold, lead, sewage, and other contaminants. Wrong or rushed restoration methods can even make hazards worse.
To help you get back in your home and back to normal as quickly and safely as possible, we've created a homeowner post-disaster restoration guide. The guide is full of helpful tips on hazards to be aware of, how to make repairs, and signs that you might need to call in a professional for help.
Food Safety
Generally, a refrigerator can keep temperature without power for around 4 hours. A full freezer can hold the temperature for approximately 48 hours. These times decrease if the doors are opened. As a general rule, if there is doubt – then throw it out!
The key to food safety following a prolonged power outage is to ensure the temperature of food stay at 40 degrees or below. Food in a freezer may be safely refrozen if the food has ice crystals or stays below 40 degrees.
For food in refrigerators, a good rule of thumb is to throw out anything that has been above 40 degrees for 2 or more hours. This includes meat, poultry, fish, lunch meat, milk, and eggs. For more information, view the U.S. Department of Agriculture's Keeping Food Safe in an Emergency page.
Water Damage
Following severe weather and flooding, your home or business may be subject to water damage, mold, and other weather-related damage.
To stop the growth of mold, it is recommended that you clean up and dry out your home or business quickly (within 24 and 48 hours). You can do this by opening doors and windows and using fans.
The CDC also has provided guidelines about clean-up and reentering your home after sustaining building and facility damage. Their Water Sanitation, & Hygiene (WASH)- Related Emergencies & Outbreaks page also highlights resources from the Environmental Protection Agency (EPA) and the American Red Cross.
Damage Assessment
As soon as it is safe to do so, it is important to inspect your home and business. Some inspections will be simple, others may need the assistance of a professional, such as a structural engineer.
Conducting this assessment early on is important, as the information obtained can be used to communicate the condition of your facility as well as the status of your program to your local child care resource and referral agency, licensing consultant, or supervisor.
Damage assessments are also useful if you are eligible to apply for disaster assistance, which you should do regardless of whether you have insurance. In some cases, additional funding may be available to supplement your out-of-pocket costs or provide for expenses not covered by insurance. Here is a sample damage assessment tool for child care.
Documentation Tips
Begin documenting your damage claim by taking an inventory of your damaged or destroyed belongings and gathering your insurance policy documents.
Use a digital camera or the camera on your cell phone to photograph any damage (both interior and exterior of the building as well as contents).
Once you've gathered necessary documents and evidence of your claim, contact your insurance company or agent.
If you need to purchase supplies or materials, SAVE ALL RECEIPTS.
Resources for Recovery