Join Child Care Aware® of America, the leading voice for child care.
CCAoA is a national membership-based nonprofit organization working to advance a high-quality, affordable and equitable child care system that supports children's growth, development, and early education. Founded in 1987, we advocate for child care policies that improve the lives of children and families, lead research that advances the child care and early learning field, leverage technology to help families make informed decisions about child care and provide professional development for child care providers
CCAoA Member Benefits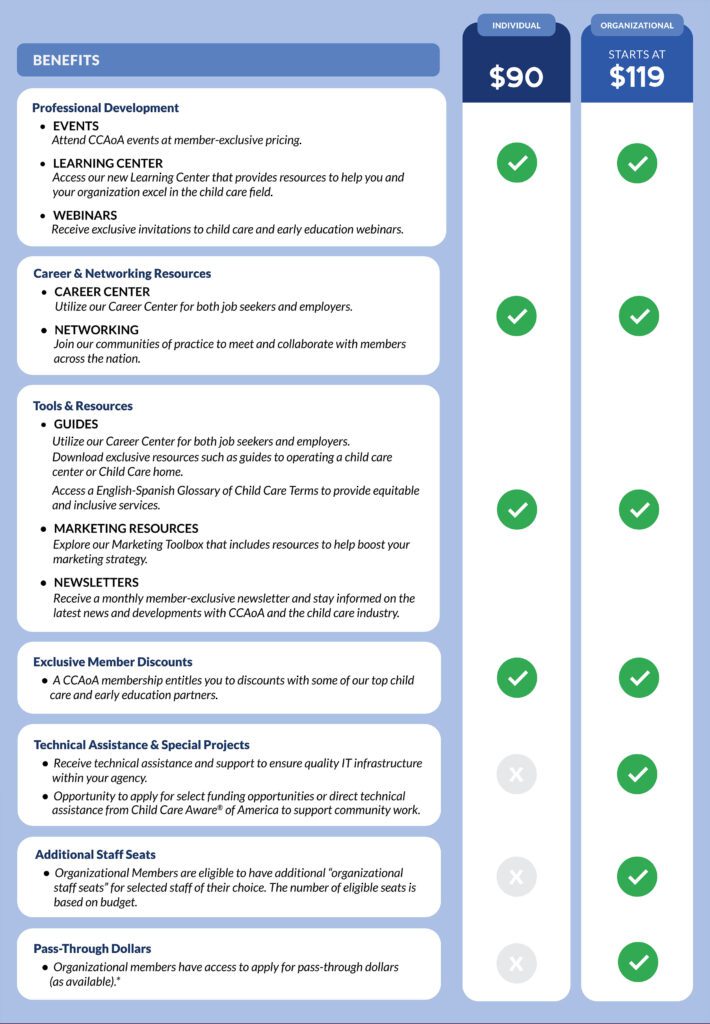 NOTE: Members can access benefits in the quick links tab, after signing into their account.
* Organizational staff members have access to the organizational member benefits, except being a voting member, access to pass-through funding and special projects and technical assistance.
Click here to learn more about Organizational and Individual Membership Benefits
Membership Types

CCAoA offers two membership types, Organizational Membership and Individual Membership. When joining, please select the type which best fits your current role or your organization's need. Please note that CCAoA membership is not associated with the fee assistance program.

Organizational Membership
Individual Membership
Organizational memberships are a great way for your entire organization to stay connected at the national level. You may select the appropriate amount of 'seats' to meet your staffing needs.

Organizations that may be interested in membership include Child Care Resource and Referral (CCR&R) agencies, child care providers or nonprofits/government agencies that support child care initiatives
Individual memberships connect you with information and resources that support child care professionals and leaders across the nation.

Individuals who may be interested in membership include child care providers or individuals who work for CCR&Rs or State Networks.
Champion Membership

Are you interested in supporting child care public policy and research? Opt-in for our champion level membership. Champion members get all of the organizational or individual benefits plus:

2X the organizational staff seats.
A portion of your fees will go directly toward our advocacy and research efforts to impact the child care landscape.
Champion members are also invited to quarterly calls with CCAoA Leadership, where we discuss child care advocacy, research and strategy.

Champion members are recognized for their efforts in the child care field at CCAoA events.
---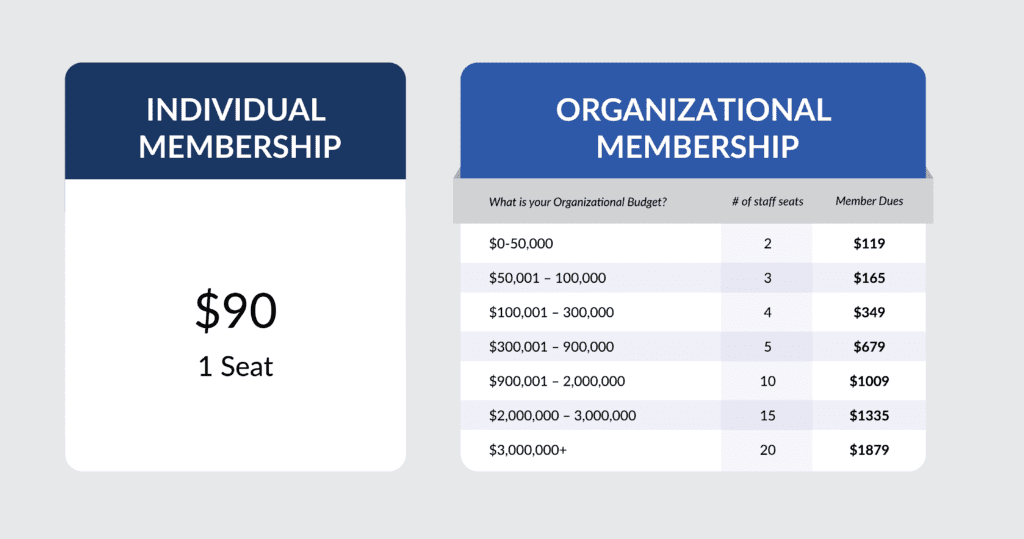 ---
Already a member?
We offer an online annual membership renewal process through a secure member portal, simply login to your membership account to renew. Additionally, members may opt in/out of our automatic renewal offering. For support, watch this renewal tutorial or contact our Membership team at membership@usa.childcareaware.org.
CCAoA does not recommend or endorse any external offerings provided as a member benefit. These links are provided as a convenience and for informational purposes only. CCAoA bears no responsibility for the accuracy, legality or content of the external site or subsequent links.